Otogar - Bus Station




Go Back to Istanbul Subway Main Page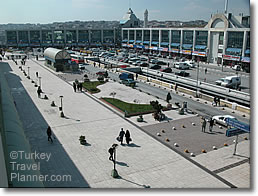 Istanbul's mammoth Main Bus Terminal (Büyük Otogar) serves all of Turkey, plus Greece, Bulgaria and the Balkans, and central Europe.
Here's how to buy bus tickets in Turkey.
This International Istanbul Intercity Bus Terminal (Uluslararasi Istanbul Otogari), as it's formally named, is 10 km (6 miles) northwest of Sultanahmet Square in the district of Bayrampasa, near the district of Esenler.
(If you're starting your trip from the center of Istanbul, you may want to consider departing from the Harem Otogar instead.
You can travel between the Büyük Otogar and Sultanahmet via tram and Metro. Click here for instructions.
You can also get there from Istanbul's Atatürk International Airport by Metro. Click here for instructions.
To travel between the Otogar and Taksim Square, the most direct way is via IETT city bus 83-O (Otogar-Taksim), which runs every 20 to 25 minutes from 06:30 am to 21:30 (9:30 pm). The trip takes about one hour. You must buy your ticket before boarding the bus.
With 168 ticket offices and gates, its own Metro station, shops, restaurants, hotel, police station, clinic and mosque, the Büyük Otogar is virtually a town in itself. You can catch a bus to Berlin or Baghdad, though you're more likely to be looking for one to Edirne, Ephesus, Gallipoli or Cappadocia.
See my chart of Buses from Istanbul to Other Cities.
You can usually just show up at the Büyük Otogar and catch the next coach to your destination in less than an hour, except at holiday times, when many buses may be fully booked in advance.
Hundreds of companies run thousands of buses, mostly big, comfortable and new, day and night. Dozens of companies connect Istanbul and Ankara, with a bus leaving at least every 15 minutes, 24 hours a day. More on bus travel in Turkey...
Esenler
Esenler
is a suburb of Istanbul, Turkey on its European side. Esenler is mainly densely packed, working class residential in the midst of its industrial neighbouring districts of Gaziosmanpaşa, Güngören and Bağcılar.
History
In the Ottoman times this area, well outside the city walls, was the villages of Litros and Avas, populated by Greek farmers. These villagers were deported in the population exchange at the founding of the Turkish republic and the area was then settled by Turks from Macedonia. Fragments of architecture remain of this area including some fountains and a ruined church in the bowels of the bus station.
Esenler today
Many of the large numbers of people that migrated to Istanbul in the 60s to 90s ended up in districts like this and with a population of over half a million Esenler has desperately insufficient infrastructure, leading to over-crowded schoolrooms and many other problems. The crime rates are high, public health is lacking, young men hang around with nothing to do all day, the shops are very meagre and the people are poor.
Esenler has the huge inter-city bus terminal of the European side.

Go Back to Istanbul Subway Main Page
Hop On Hop Off City Sightseeing Istanbul - City Tour - Ho Ho Points


Home | Ana Sayfa | All About Turkey | Turkiye hakkindaki Hersey | Turkish Road Map | Historical Places in Adiyaman | Historical Places in Turkey | Mt.Nemrut | Slide Shows | Related Links | Guest Book | Disclaimer | Send a Postcard | Travelers' Stories | Donate a little to help | Istanbul Subways | Adiyaman Forum