VAN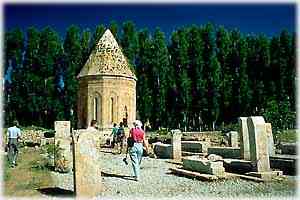 The province of Van sits by Lake Van, and was the ancient Urartian capital of Tuspa. It is situated in a green, fertile oasis in the midst of rocky mountains. An impressive citadel stands on one of these peaks and dates back to the 9th- century BC. There are steps carved into rock leading to the fortress, and while descending you will be able to see some cuneiform inscriptions paying homage to Persian King, Xerxes of the 5th- century BC. In the fortress, the Urartian royal tombs are of interest. The surrounding area is full of Urartian remains. In the old city there are many mosques and mausoleums such as the Ulu Mosque, the Husrev Pasa Mosque, the Kaya Celebi Mosque and the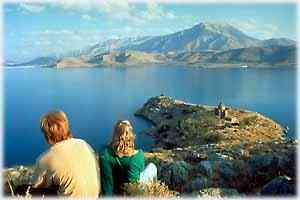 Ikiz Kumbet. The Archaeological Museum in the new city exhibits the Urartian finds. At Van Harbour you may find pleasant places to rest. For swimming and camping you may head for Edremit, 14 kms to the southwest. It is a holiday resort center from where you may do some sightseeing excursions. At Gevas, there is a Seljuk graveyard, filled with extraordinary headstones, as well as the lovely Halime Hatun Tomb.
Lake Van is the largest lake in Turkey and provides good opportunities for enjoyable excursions. You may go trekking or hunting in the mountains surrounding it, especially Mount Suphan, the second highest mountain in
Turkey after Mount Ararat. Alternatively you may head for on the beach, or visit the Urartian sites and Turkish cultural centres. The islands on the lake are also interesting, most of them housing many monasteries and churches. The most important of these is the Akdamar Island with its 10th- century church of Holy Cross. The church is now restored as a museum and its richly decorated walls
have Old Testament reliefs. After visiting the museum you may rest at the beneath lakeside the almond trees, where there are good opportunities for picnicking and swimming. Carpanak Island is also interesting and deserves a visit. Hosab, 67 kms east, has a magnificent old fortress fronted by huge walls. At Cavustepe, there is an Urartian site, which is 25 kms from Van on the Hakkari road.
88 kms north of Van, are the Muradiye Waterfalls, perfect place to rest while listening to natures harmony at one of the restaurants or tea gardens around the falls. Van is also famous for its Van cat, a pure white, longhair cat which has the strange feature of one blue eye and the other green.
Van Castle
It was built within the capital of the Uratu State, Tushba during the 9th century B.C. The castle fell into the bands of the Assyrians during the early 7th century B.C. when the Urartus were defeated and fled from the region. The castle also carries imprints of the Selçuk, Karakoyunlu, Akkoyunu and the Ottoman eras. The most important sections in the castle are the rock cells and inscriptions belonging to the Urartus. The castle also contains a mosque built by Sultan Süleyman the Great.



Home | Ana Sayfa | All About Turkey | Turkiye hakkindaki Hersey | Turkish Road Map | Historical Places in Adiyaman | Historical Places in Turkey | Mt.Nemrut | Slide Shows | Related Links | Guest Book | Disclaimer | Send a Postcard | Travelers' Stories | Donate a little to help | Getting Around Istanbul | Adiyaman Forum