HOW TO GO TO MT.NEMRUT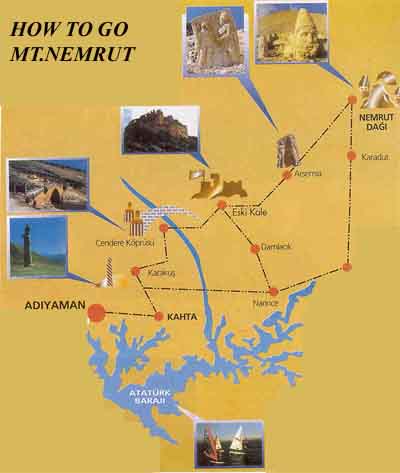 The best period is between May 15 and October 15. The sunrise and sunset in Nemrut is magnifient and fascinating. The road is ashpalt up to the village Karadut and the rest is basalt. Near the peak there is a 15 minutes walk. Touring vehicles can be hired form Adiyaman or Kahta district. Long Tour: For those who aiming to watch the sunrise, it starts at 2 AM form Adiyaman, going through the places of interest all over the Nemrut National Park, lasts 3-4 hours. Those who want to see the sunset, the tour starts at 2 PM from Adiyaman. Short Tour: Tours including only Nemrut Mountain but not the other ruins and relics of the Commagene civilization. There are also daytime tours.
86 kilometers Northeast of Adiyaman.) Mt.Nemrut (Nemrut Dagi,) is the highest mountain of Northern Mesopotamia, overlooking passes along the Euphrates and great southern plains. On the summit, at on altitude of 2150 m., is the gigantic funerary sanctuary erected in the first Century B.C. for the King Antiochos 1. of Commagene. It comprises and artificial flanked by terraces where colossal stone statues of Apollo, Zeus, Hercules, Tyche and Antiochos stand, the toppled heads of which lying on the ground. This magnificent scene is considered as an eight wonder of the world. On the western terrace, in addition to colossal statues, there are relief's reflecting King Antiochos 1. Greeting the Gods.
THE DISCOVERY OF THE COMMAGENE CIVILIZATION
The discovery of the Commagene civilization was wholly by chance. A German officer, named H.Von Moltke, who was with Ottoman Army, saw the colossal statues on a duty trip in 1838, and informed his country. After a few year excursions systematic archeological excavations started in 1938. By the lifelong studies of Karl Dorner of Germany and Theresa Goel of USA, the mystery of the civilization was revealed. Excavations, which went on until 1985, revealed many inscriptions, some of which exhibited in Gaziantep Museum



Home | Ana Sayfa | All About Turkey | Turkiye hakkindaki Hersey | Turkish Road Map | Historical Places in Adiyaman | Historical Places in Turkey | Mt.Nemrut | Slide Shows | Related Links | Guest Book | Disclaimer | Send a Postcard | Travelers' Stories | Donate a little to help | Getting Around Istanbul | Adiyaman Forum