Nemrut Dag (Mt Nemrud) is a mountain measuring 2,150meters in height. It is located near the village of Karadut in Kahta county in the province of Adiyaman.   Kings of the Kommagene dynasty from 80 B.C. to 72 A.D ruled Adiyaman and its vicinity.  This kingdom, whose capital was Samosata (now called Samsat), was founded around 80 B.C. by Mithridates 1, father of Antiochos 1. The kingdom's independence came to an end with its defeat by Roman legions in the last of the Kommagene wars and it became part of the Roman province of Syria.
You will be offered a minibus tour. I would advise to leave  in late afternoon to see sunset and spend the night there. There's either a dormitory at the base of the mountain, or there's a more luxurious hotel a couple of kilometres before the mountain. We stayed at the dormitory. Make sure you have a good sleeping bag here because it's freezing cold. Next morning you can get up to see sunrise.
;D Another option is to spend the "night" in Kahta, You will then get up at 1.30 am, and leave at 2 am. You will arrive at the mountain around 3.30 am, much too early for sunrise. You will freeze if you don't have good clothing. So, I don't really recommend this option. This is also part of the 2-day trip which is organised departing from Cappadocia. This minibus starting from Kahta costs now 40 US$ for the whole bus, including the additional tour.
8) The third option, and probably the best if you have the choice, is starting from Adiyaman. Take the tour organised by the Tourist office. They will propose you to book a hotel near the mountain, but you could also book a oneway ticket, walk over the mountain (direction Kahta) and spend the night in the dormitories. Next day, it shouldn't be difficult to join one of the minibuses leaving for Kahta, price will be 15 US$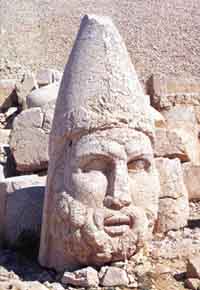 Most tours take in some other nearby sights like a nice Roman bridge and some reliefs.
For mor information, please click
http://www.adiyamanl...g/mt_nemrut.htm
here
Admin